Tzedek, Tzedek Tirdof – "Justice, Justice You Shall Pursue" – Deuteronomy 16:20
For more information contact Ellen Israel:
Next meeting:

_______________________________________________________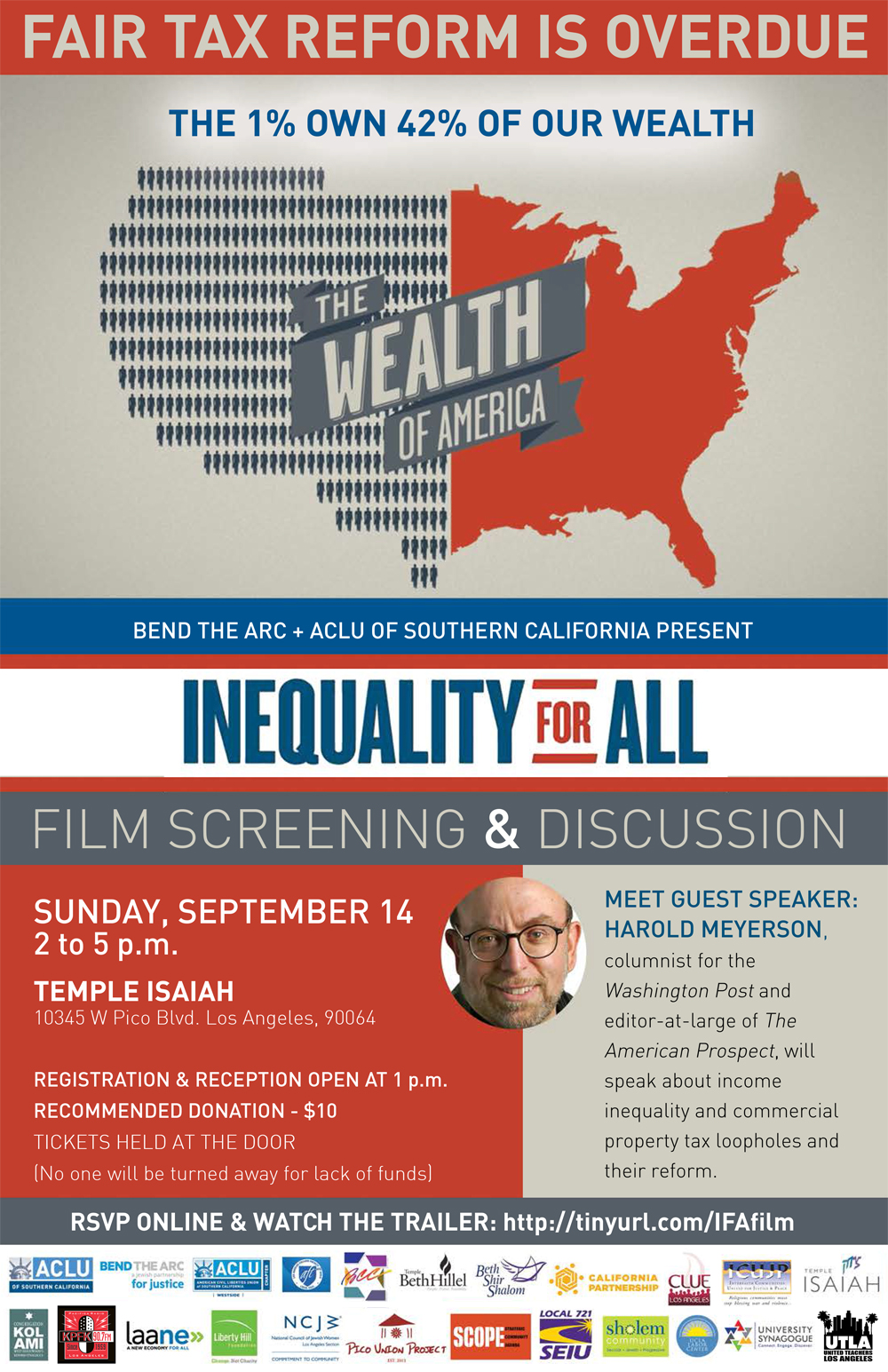 _______________________________________________________
Can We Talk?
How many times do we actually get an opportunity to tell our own personal story and discuss what is really on our minds? Over the next few months, you will have that opportunity at Temple Judea!
Judeans for Justice has worked with other Los Angeles institutions toward repairing the world in a way that is salient to our membership. About four years ago, we had discussions with many of our members and heard from them that they were concerned about health care. Whether it was the high cost of insurance, pre-existing conditions or the ability to provide employees with a suitable plan, our congregants were troubled. A few years later, through our work with other institutions and public officials, our collective has enrolled over 6,000 people into comprehensive health care plans for which they qualify. We continue working toward quality health care for all, but it is also time to move on. We have learned that change is possible!
We have started a new campaign of listening to our congregant's concerns. Other institutions across the city are doing the same. For example, Leo Baeck Temple has found that traffic is a concern for their congregants and has put together a meeting of stakeholders, including officials from MTA and Mayor Garcetti, to address this issue. Institutions in South Los Angeles are finding that workforce development is an issue for them, and they are working toward starting training programs in the newly expanded health care field.
What will be OUR next topic of interest? We don't really know yet. Judeans For Justice is starting the process of finding out. Over the past six years, we've experienced one of the biggest economic shake- ups of our lifetimes. It's impacted our public schools, state universities, jobs, pensions and retirement plans. These changes shape the quality of our lives and the quality of life of those we love. They shape our experience in the present and our concerns about the future.
Over the next few months, we will be having conversations with congregants with this question as a prompt:
"What social and economic pressures have you seen or experienced and how do they impact you, your family and the community in which we live?
We would be happy to come to your temple group, committee or Havurah to facilitate this discussion, or to even just get together for coffee and a chat! Please contact Ellen Israel to set up a conversation.
____________________________________________________________
Judeans for Justice Assembly - June 8, 2014 - Road Rage: What Can Be Done About Traffic?
Judeans for Justice and OneLA presented an informative, problem-solving assembly with Mayor Garcetti and officials from MTA.

Judeans for Justice Assembly - October 13, 2013
Judeans for Justice, Temple Judea's Social Justice committee, has been working with OneLA, a broad-based community organizing coalition, to insure that all Californians have access to quality, affordablehealthcare. Along with 60 other member institutions, we have worked along vast and diverse ethnic, cultural and socioeconomic lines to educate and help folks sign up for available health insurance. On October 13, 2013 Temple Judea will be hosting a OneLA assembly geared toward those interested in learning more about California's Health Benefits Exchange, Covered California, and the new health insurance options that will be available for individuals and families, as we more toward January 2014, when coverage is mandated.
With OneLA, we have worked to help sign up qualified applicants up for County health programs, such as Medical and Healthy Way LA. Now, with Covered California enrollment beginning October 1, 2013 we will be educating our communities about the new available health insurance options, including information about essential health benefits, the different levels of coverage, and who qualifies for subsidies
Please join us on October 13, 2013 from 2:00pm to 4:30pm to explore Covered California, and learn what option will be best for you and your family and for those you know.
Additionally, we are beginning a new round of conversations with our fellow congregants, in an effort to learn what issues are on our minds and where our passion for community involvement may be. Don't be surprised if someone calls you and asks to meet for a quick coffee and chat!
See this article about our work: http://www.healthycal.org/archives/11699
Posted March 2, 2013 by Ellen Fink Israel
I just returned from an outstanding OneLA event. OneLA leaders, including some from TJ, spent the day at Mary Immaculate Church in Pacomia helping folks enroll in County Health programs for which they qualify. Our goal of health coverage for all those who qualify in Los Angeles is one step closer!
The procedure was well organized and efficient, with short wait times, ample information, and smiles all around. We helped approximately 200 people find the health care plans that are appropriate for them. This enrollment event will be replicated again at Mary Immaculate and several other parishes around Los Angeles in the months to come. County reps were on hand to help and answer questions; they were very impressed with our successful efforts.
If you are interested in being trained as a certified enrollment volunteer, please contact me: Ellen Israel,
Posted February 10, 2013 by Ellen Fink Israel

On February 10 One LA held its Mayoral Forum at Leo Baeck Temple. Participating in the Forum were the 4 leading candidates, Eric Garcetti, Wendy Greuel, Kevin James and Jan Perry. This Forum was a follow up to commitments the candidates had made in October when they attended a debate at Leo Baeck that focused on public transportation in the
Sepulveda Corridor, prior to Emanuel Pleitez joining the race. Over 40 of One LA's institutions were represented at the Forum along with 15 guest institutions. Temple Judea was well represented including on the podium with Temple member Skip Koenig acting as co-chair along with Yvonne Mariajiminez of Neighborhood Legal Services. With close to 1000 leaders and guests coming out to hear One LA engage the candidates and
lay out its agenda for making LA a more livable City by improving our public transportation system, putting the public back in public education and building more affordable housing, the event was unlike any of the other 30 + debates the candidates have been subjected to. This was an interactive engagement between our next mayor and the people he/she will serve. The diversity of Los Angeles was well represented at
Leo Baeck with folks from East and West LA, and the entire San Fernando Valley. The candidates took notice of this diversity and power, committing to meet with One LA leaders shortly after taking office to work on the One LA agenda. Based on the turnout and the commitments received, the event was a big success for One LA and its members, including TJ, as it continues to build power through shear numbers, rather than the old fashion way, money in politics. The work continues and we invite you to join us at Temple Judea on February 19 at 7:30 to learn how you can be a part of this dynamic organization.
Posted January 23, 2013, by Ellen Israel
HEATHCARE REFORM UPDATE
We are helping to make OneLA's goal of universal healthcare a realization through our working relationships with Secretary of Health, Diana Dooley, Senator Ed Hernandez, and Dr. Mitch Katz, Director of LA County Health.
OneLA has been asked to give input on a preliminary website for Covered California (formally the Health Benefits Exchange); we are one of only two CA organizations asked for input. Our input focused on having a simple, easy to use, thorough platform. We were publicly recognized for our work at the last Covered California meeting in Los Angeles. OneLA has secured a meeting to help steer the course so that trained professionals who will help people sign up for healthcare (navigators) will be trusted community leaders.
We are also beginning a County Health enrollment strategy, with cites at our member institutions. We are training volunteers to assist folks who currently do not have healthcare coverage to sign up for appropriate county programs. In February, the LA Board of Supervisors will vote to make OneLA an official partner on County enrollment, and the California Endowment has awarded OneLA a grant to help fund our County enrollment work.
If you are interested in being trained to help enroll people in County health programs, please contact Ellen Israel
Posted January 23, 2013, by Sheila Linderman
Are you sick and tired of sitting in traffic on the 405? Did you know that you can actually have a voice in how decisions about public transportation and traffic in Los Angeles are made? It all starts with showing up!
Please join us on Sunday, February 10, at Leo Baeck Temple for a meeting with L.A. Mayoral Candidates. The theme will be "Making Los Angeles a Livable City," and we will be concentrating on public transportation/mass transit, public education, and housing for a diverse population.
The Action will take place from 1:45 to 4:00. If you would like to join us, please contact Ellen Israel ( ) or Sheila Linderman ( ). Stand up and let your voice be heard--it beats honking in traffic!
Posted October 31, 2012, by Ellen Israel
I, along with a handful of OneLA leaders and representatives from IAF Northern California, went to Sacramento on October 30th for the Health Benefits Exchange (HBEX) Board meeting. Our attendance was to both present a couple of issues that OneLA has been working on, and to see just how the Board meetings operate, in preparation for the January 17th meeting in Los Angeles (previously scheduled for November 20th).
Good news! The Board got a report, which stated that many health insurance companies are bidding to be part of both the individual and small business exchanges, including CA's top four providers. OneLA recommended that the HBEX make multi-year plans a requirement for companies who participate in the Small Business Exchange (SHOP), as we have heard from small business owners (and administration at TJ) that employees are upset annually as their employers need to switch to health plans that offer the best rate, often disrupting continuity of care.
OneLA also told the HBEX about our plan to have mobile enrollment at some of our member institutions to help people sign up for county health plans that they qualify for. Too often, folks are unaware of eligibility requirements and unable to spend entire days at County clinics just trying to get their paperwork processed. County Department of Health Services will work with OneLA teams at these enrollment cites, thereby, reducing wait time at clinics and reducing the public cost of enrollment by pre-qualifying people for County Low Income Health Plans.
Please mark your calendars for the HBEX meeting in Los Angeles on January 17th. We will need people power to remind the Exchange Board that we are a political force to be reckoned with.
Posted October 9, 2012, by Ellen Israel
JUDEANS FOR JUSTICE: WORKING TOWARDS HEATHCARE FOR ALL
Temple Judea's Social Justice Committee, Judeans for Justice (JFJ), could feel the excitement as the standing room only crowd of concerned citizens gathered together on September 6th. It was a meeting to continue the ongoing healthcare reform advocacy JFJ works for in its partnership with OneLA, a broad-based community organizing coalition of 60 institutions, on implementing healthcare reform in California. Judeans for Justice took their place alongside 350 Los Angelenos who gathered to greet CA Secretary of Health and Human Services and Health Benefits Exchange (HBEX) Chair, Diana Dooley, Director of LA County Health Services, Dr. Mitch Katz, and State Senator and Chair of the Senate Health Committee, Dr. Ed Hernandez. The important work of the evening included presenting these state goverment representatives with OneLA's agenda for universal health care in Los Angeles County.
Issues discussed included:
making sure Exchange Navigators (individuals employed by the Exchange to help citizens understand the system) will be available and trusted in the communities they will serve,
insisting that insurance companies offer multi-year plans for individuals and small businesses on the HBEX,
providing easy access to all Californians to medical services for which they qualify,
decreasing wait times at County health clinics, and
transparency of costs and benefits on the HBEX.
Officials were presented with clear proposals, and all agreed to work closely with OneLA toward our goal of providing healthcare to all who live in LA County. The Judeans for Justice team was excited about the progress made in the work towards our goal of assessable, affordable health care for all. They are making a difference in the community! The JFJ team will continue this important work in partnership with OneLA institutions as they gather momentum and enthusiasm for the next major milestone related to assessable, affordable health care in January, 2013, when the HBEX will meet in Los Angeles. JFJ will be there to make sure our concerns are seriously addressed. Join us with your voice!
For more information contact:
Ellen Israel:
Skip Koenig:
Don Goor:
Laura Abrasely:
Posted March 10, 2012, by Skip Koenig
The Healthcare Sub Group of Judeans for Justice has been very busy over the last 4-5 months. Following up on the Action that was held at Judea in November, we have continued to meet with politicians and experts in the area of healthcare to help us increase our knowledge base and develop our plan of action. Since November we have held a follow up meeting with Assemblyman Mike Feuer as we work with him to get AB 52, his piece of legislation that will regulate rising health insurance premiums, passed. We have also met with several State Senators who have not yet committed to support the bill in an effort to get their vote.
In addition to our work on AB 52, we have also been working on increasing our understanding of the effects of the Affordable Care Act (ACA) here in California, with particular attention to the Health Benefit Exchange that has been established in California and will become fully functional in January of 2014. As part of that process, we participated in a meeting with Diana Dooley, the Secretary of Heath in California and a member of the Exchange. We also met with Jerry Kominsky of the UCLA School of Public Health and and then held a workshop at Judea with the Western Regional Director of HHS who spoke with us about those elements of the ACA that are already in place, the benefits they afford all of us, as well as what the Exchange will look like and what role we can play as it continues to formulate it's policies. There is a meeting scheduled for March 27 in Sacramento with IAF (the parent group of One LA) leaders from the Western Region to meet with Nancy Turnbull, a member of the health exchange in Massachusetts as well as with Ms. Dooley.
Because of the work we have done in the area of healthcare, and the knowledge we have developed, we were asked to make a presentation to a One LA retreat held in February on healthcare. In attendance at the retreat were representatives of many of the 60 institutions that are members of One LA. Most recently we were part of a delegation of One LA leaders who met with leaders and organizers from Northern California and presented our healthcare schpeal. It was very well received and we were asked to put together a program that other IAF member organizations throughout the State can use to educate their members on AB 52 the ACA and the Healthcare Exchange.
Lots of work done, but lot's more to do.
Posted January 24, 2012
It's hard to believe that two months have gone by since the One-LA Valley Action at Temple Judea. With over 600 participants, it was certainly a day to remember! The great work we began that day as a united voice of the San Fernando Valley has been steadily moving along as follow-ups to that assembly. Some of the amazing things that have happened since we last gathered as a community:
In pursuit of the issue of healthcare, Judeans for Justice has been working as part of the One-LA team on the passage of Assembly Bill 52, which would give the California Insurance Commissioner the authority to regulate increases in health insurance premiums. To this end, One-LA members have had meetings with Assembly member Mike Feuer and Insurance Commissioner Dave Jones to determine where best to leverage our power. Through these meetings, we now have conversations scheduled in the next few weeks with Secretary Diana Dooley, advisor to Jerry Brown and three Senators key to passage of the bill: Curran Price, Alex Padilla and Ed Hernandez.
Judeans for Justice working with One-LA's education team have also had some recent major successes. First, LAUSD has made some desired changes in their Public School Choice program, giving local school authority to determine what is best for their students. Also, the healthy school lunch program has been modified, to keep in place foods kids are familiar with, but with healthier preparation. A valley-wide strategy session on education related issues is scheduled for late January. Be in touch with Brent Smiley ( ) for more information.
One-LA members continue to make progress on addressing the ongoing mortgage crisis in Los Angeles. A recent City Hall action on foreclosures successfully amended the banking ordinance bill, a bill that makes banks compete for city investments by investing in local neighborhoods and businesses.
As you can see, the members of Judeans for Justice have been quite busy. With the new secular year underway, the next few months are packed with ongoing issue work and a new initiative for Judea members designed to strengthen our internal connections and community. Be sure to put these upcoming meetings and actions on your calendar:
In Judea's continued support of the issue of healthcare as a major issue of concern to our congregation, please join us for the special events listed below:
An informative discussion on implementation of the Affordable Heath Care Act in California with Herb Schultz, Regional Director U.S. Department of Health and Human Services on February 22nd at 7:00 (RSVP)
One-LA's San Fernando Valley March 4th meeting with Eric Garcetti, a candidate for LA's mayoral race, where we will present our agenda to the candidate.
The great civil rights leader Dr. Martin Luther King, Jr. once wrote that, "injustice anywhere is a threat to justice everywhere." As responsible human beings, pursuing justice is work that must happen everyday. We welcome all Judea members to join us in our work with One-LA. Check back often for more updates and if you would like more information, please contact Ellen Israel at